Undertow
by Christine Kornacki
"Life has many ways of testing a person's will, either by having nothing happen at all or by having everything happen at once." –Paulo Coelho
Original watercolor and colored pencil piece on watercolor paper. Artwork is unframed.
Artwork size: 5″ x 5″
Paper size: 6.5″ x 6.5″
Product Height: 5 Inches
Product Width: 5 inches

$250 $250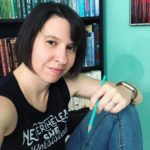 Christine Kornacki
Christine Kornacki is a children's book illustrator and book cover artist living in Shelton, CT. Christine has worked for a wide variety of clients in the KidLit and Advertising industries and currently gives back to the community by teaching as an Adjunct Professor at the Hartford Art School. She creates vibrant paintings that invite you into her imaginative world.