WANT TO BUY EARLY?
Our collectors get 30 minutes to buy before anyone else.
Underhill Beside Springs
by Naomi VanDoren
I always seek out peaceful settings to rest and recharge. My hope is that this piece will bring a piece of that tranquility into your own home.
—
6 x 8 inches
Mixed Media – Watercolor & archival inkjet on
Arches watercolor paper.
Matted for an 11×14 inch standard frame. Unframed.
$325 $325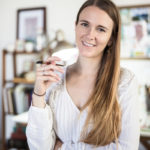 Naomi VanDoren
Naomi is a whimsical artist, author, and a wanderer at heart. Vibrant, natural themes of the outdoors and a love of travel and exploration saturate her work. Having grown up in the Spice Island of Indonesia, she pulls from the rich cultures of South East Asian and Oceana as further inspiration for her work.

Her art revolves around imaginative worlds and reflects a deep desire to explore not only the world she lives in but imaginative ones as well.

Naomi is currently based in Northern California.

Other ways to collect my work:

Originals: naomivandoren.com/originals
Prints: naomivandoren.com/prints
Art Books & More: naomivandoren.com/books-accessories

Patreon: patreon.com/naomi



EXTENDED GALLERY
Beyond the every day, these are pieces a little bit more than our daily offering.