WANT TO BUY EARLY?
Unlock the Add To Cart button
30 minutes early
This Tangled Thread
by Emerald Barkley
"This Tangled Thread" has been an exercise in falling into mark making as a meditation. In the last few weeks I have thought a lot about the variations in shared experiences, and the tangled impressions we have of those experiences after time has passed. Where are the places that we are knotted together, with thread as delicate as spider silk? How do we share space, and what context do we bring with us that allows for a multitude of varied experiences for the same event?
"This Tangled Thread" is a 9″ x 12″ watercolor and ink painting on thick Arches hot-pressed watercolor paper. The framed dimensions are 15.25″ x 19.25″
Product Height: 12 inches
Product Width: 9 inches
Product Surface / Material: Arches Watercolour Paper

$350 $350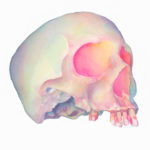 Emerald Barkley
Emerald Barkley is a watercolor and mixed media artist from Northern California. Emerald uses a colorful palette and personal symbolism drawn from the natural world to create work about mindfulness, ego, and mental health.
They enjoy hiking and peach cobbler.

https://www.patreon.com/emeraldbarkley



EXTENDED GALLERY
Beyond the every day, these are pieces a little bit more than our daily offering.