WANT TO BUY EARLY?
Unlock the Add To Cart button
30 minutes early
This Beauty We Embrace
by Emerald Barkley
"This Beauty We Embrace"
How can we best work with, lean into, and learn about our identity? As I unfold these questions like a soft flower in front of me, the quiet answer that I receive is that I must become more comfortable with embracing the beauty inside of myself.
How often do we neglect the pieces of ourselves that glow brightly, and how can we better honor those pieces?
Watercolor and just a touch of gouache on 300 lb. Arches hot-pressed paper.
Dimensions are 10″ x 13″
This painting will ship unframed.
Height: 13"
Width: 10"
Materials: Watercolor, gouache, and Arches 300 pound hot-pressed paper.

$430 $430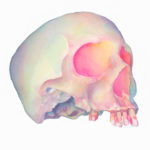 Emerald Barkley
Emerald Barkley is a watercolor and mixed media artist from Northern California. Emerald uses a colorful palette and personal symbolism drawn from the natural world to create work about mindfulness, ego, and mental health.
They enjoy hiking and peach cobbler.

https://www.patreon.com/emeraldbarkley



EXTENDED GALLERY
Beyond the every day, these are pieces a little bit more than our daily offering.