WANT TO BUY EARLY?
Unlock 30 minutes early on our mailing list
The Weight of Memory
by Emerald Barkley
The Weight of Memory is an original watercolor skull painting by Emerald Barkley about the quiet and suffocating nature of anxiety.
I often think about my anxiety in terms of birds and feathers – quick, fluttering, quietly suffocating. A thunderous whisper in my heart and in my throat, and an overlay to any experience.
A good trick that I have learned is to ground myself in the present moment with my senses. What am I seeing, smelling, feeling, tasting, hearing?
Even as I ground, two feet firmly present in the sense of now, there is a memory of a throat full of feathers.
The Weight of Memory is  9.5″ x 12″ original watercolor and ink painting on Arches hot-pressed paper.
This piece will ship unframed.
More originals on EDO:
Quiet: https://everydayoriginal.com/product/quiet-2/
These Slow Moments, They Writhe: https://everydayoriginal.com/product/these-slow-moments-they-writhe/
These Teeth That Gnash: https://everydayoriginal.com/product/these-teeth-that-gnash/
Other ways to collect my work:
Originals: https://www.emeraldbarkley.com/shop/original-artwork
Prints: https://www.emeraldbarkley.com/shop/prints
Patreon: https://www.patreon.com/emeraldbarkley
Stay in touch:
instagram: @emeraldbarkley
tiktok: @emeraldbarkley
$400 $400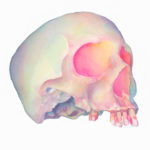 Emerald Barkley
Emerald Barkley is a watercolor and mixed media artist from Northern California. Emerald uses a colorful palette and personal symbolism drawn from the natural world to create work about mindfulness, ego, and mental health.
They enjoy hiking and peach cobbler.

https://www.patreon.com/emeraldbarkley