WANT TO BUY EARLY?
Unlock 30 minutes early on our mailing list
The (uninterrupted) song of Spring
by Dianita
This painting tells the story of one of the many Medusas I've created.
This time, she has found a small nest and has used what she had at hand to protect it. In return, the birds sing for her every day and now her days are now less lonely than before.
I've learn an important thing in my life after working on my own mental health: to relax and to limit what comes into my life. This includes, other people's perceptions.
I also was yearning to see the Cardinal birds visiting my window this year. It all turned into this fun painting celebrating calm, peace and a smile. Have you noticed that Medusa depictions (or many depictions of women in art in general) are not shown smiling? I feel I want just to change that in my art, because we deserve to smile fully and not to live like mysterious creatures.
You will find many Medusa themed art in my portfolio this year. I've taken this beloved and also feared character and asked myself many questions about her, her story and the situations that lead us to believe she's a monster that needs to be vanquished. Sometimes, I just want to paint her with a lovely smile and out of danger.
This painting was made with oils on a panel and measures 12in x16in.
Includes a black frame bringing it to a total size of 15 1/4in x 19 1/4in aprox.
Please allow an extra week for shipping.
If you're purchasing from outside the US, you might need to pay custom fees in your country in order to receive your package.
Size: 12in x 16in

$725 $725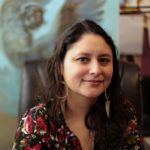 Dianita
Dianita is a fantasy artist born in Veracruz, Mexico. She has found that Fantasy provides her with the perfect language to portray her deepest emotions. It's where she finds freedom to explore fears, hopes and that wish for connection between all living creatures and our world.

Cover artist for Mermaids Monthly magazine (April 2021). Artist for "The Unbridled Spirit Tarot" (Llewellyn, 2024).