WANT TO BUY EARLY?
Unlock 30 minutes early on our mailing list
The Tempest and the Tide
by Jennifer Hrabota-Lesser
The song Tempest and the Tide by Purson has haunted me since I first listened to it. Purson is often the soundtrack to my painting, this painting is inspired by that song.
My ribbons are a'tattered and torn
My hair is in a tangle
My eyes they stare a thousand miles
My chest's a ball of bramble
Here in the hell between
The devil and the deep blue sea
"Tempest & The Tide" as written by Rosalie Cunningham and Ed Turner.
$400 $400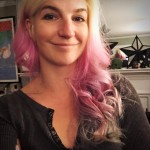 Jennifer Hrabota-Lesser
The work of Jennifer Hrabota Lesser explores the edges of discomfort while maintaining the serene and and calm facade expected of modern women. Her work references fables, mythology, social and religious constructs, and where these constructions fail to support the unyielding center.
Her subjects are often embattled, finding or losing their own power. They deal with what the unconscious conveys beyond the armor of the exterior, and the need to cover up the unseemly with something beautiful.