WANT TO BUY EARLY?
Unlock 30 minutes early on our mailing list
The Ramparts of Al Khafra
by Mark Harrison
The old Crusader fort of Al Khafra finally surrendered to Saladin after a long siege of many months with the defenders allowed to leave with safe passage to Jerusalem. The ramparts were restored after much damage by cannon fire and siege engines apart from an entrance being made for ships to pass through to the burgeoning city within as they were so confident that no further attacks would be made by the retreating Crusader forces. The city became famous throughout the Moslem world as a seat of learning and power drawing scholars from as far afield as Europe and India to it's libraries and palaces. It was said that all those that see the city under a full moon are blessed with a life of great fulfillment.
Well that's what somebody told me over some beers in a hotel bar in Cairo…
$495 $495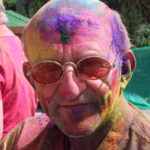 Mark Harrison
Painted over 450 book jacket illustrations for most major UK and USA publishers, quit illustration in 2005 to paint personal work for sale in galleries. I now work in a variety of fields from fantasy paintings to fine art paintings and have been a regular exhibitor in the Main Show at IX for the past five years.