WANT TO BUY EARLY?
Unlock the Add To Cart button
30 minutes early
The Hour of Lead
by Hilary Clarcq
This 13″ by 19″ oil painting was created for the 2017 Month of Fear challenge, "Shiver." It was inspired by a poem called "After great pain, a formal feeling comes" by Emily Dickinson. I especially love the following stanza:
This is the Hour of Lead –
Remembered, if outlived,
As Freezing persons, recollect the Snow –
First – Chill – then Stupor – then the letting go –
$350 $350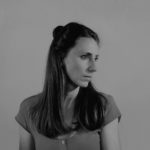 Hilary Clarcq
Hilary Clarcq is an illustrator and gallery artist. Her oil paintings often favor symbolism over literal narrative, and they tend to have a surreal or dreamlike quality. Her work has been recognized by Spectrum Fantastic Art, Illustration West, and Infected by Art. She was the recipient of the Muddy Colors Rising Stars Award in 2019 and the Jack Gaughan Award for Best Emerging Artist in 2021.
EXTENDED GALLERY
Beyond the every day, these are pieces a little bit more than our daily offering.