WANT TO BUY EARLY?
Unlock the Add To Cart button
30 minutes early
The High Road
by Sarah Finnigan
Climbing atop the rock pillars, you find a path that leads westward, to and through a lancet doorway.
Curiosity is a powerful and enduring aspect of humanity. It stems from passion, excitement, and optimism, and balances out our more mechanical drivers, such as survival and self preservation.
Acrylic on wood panel, and measuring 5″ x 7″. It is framed to 9″ x 11″.
Product Height: 7"
Product Width: 5"

$280 $280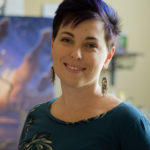 Sarah Finnigan
Sarah Finnigan is a Houston-based artist creating portraits of allegorical landscapes. Her inspiration is built on a youth spent getting lost in adventure games, exploring in the woods, and being captivated by astronomy and the night sky. She infuses her work with fantastical elements to spark curiosity and the desire to explore, and to inspire a sense of reverence, awe, and wonder that many experience when looking skyward on a dark, clear night.

Sarah's work is achieved with a glazing technique to create luminous acrylic paintings.

Other ways to collect my work:
Shop: https://sarahfinnigan.com/store
Patreon: https://www.patreon.com/user?u=133149



EXTENDED GALLERY
Beyond the every day, these are pieces a little bit more than our daily offering.