WANT TO BUY EARLY?
Unlock 30 minutes early on our mailing list
The Cloud palace of Hakim Bey
by Mark Harrison
Hakim Bey came to power at the age of sixteen as the other members of the family vied for the throne after his father died of suspected poisoning. Although young he was wily in the ways of the Court just like his father and was able to position himself to take over by a combination of ruthless murders of his mother's side of the family and sending most of his father's side into exile. Over the years however paranoia set in as he doubted his own wisdom for letting those family members live and decided to build a new palace high up on the side of a mountain trusting that it was impregnable from any future threat by armies or assassins sent by what was left of his resentful family. To an outsider the palace looked fantastical and enchanted but this belied the dark secret of Hakim Bey's rise to power as he slowly descended into a life of debauchery and paranoia eventually being ended by knife to the throat by a Courtier loyal to a distant cousin who Hakim Bey had forgot to deal with. This ruler proved to be worse than Hakim Bey but that's another story…
Well that's what somebody told me…
$495 $495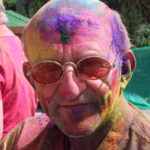 Mark Harrison
Painted over 450 book jacket illustrations for most major UK and USA publishers, quit illustration in 2005 to paint personal work for sale in galleries. I now work in a variety of fields from fantasy paintings to fine art paintings and have been a regular exhibitor in the Main Show at IX for the past five years.