WANT TO BUY EARLY?
Unlock 30 minutes early on our mailing list
The Chickadee of Holding
by Emily Poole
The Chickadee of Holding
adventuring gear (wondrous item)
Category: Items
Item Rarity: Rare
Weight: 1
This chickadee vessel is said to have been crafted by druids of the ponderosa pine forests of the West. It seems that the clay and pine needles used in its construction have imbued it with a sliver of the forest magic from its origin; when you lift the woven lid, faint bird calls can be heard, and no object stored in the Chickadee of Holding is exactly the same once it is removed.
Height: 4" at tallest point
Width: 5" at widest point
Weight: 12 oz
Materials: Clay, waxed thread, ponderosa pine needles

$125 $125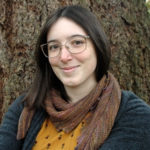 Emily Poole
Emily Poole is a natural history illustrator living in the mossy hills of Oregon. She can be found exploring tidepools and cliffsides, gathering inspiration and making artwork about our fellow species and how to be better neighbors with them.