WANT TO BUY EARLY?
Unlock 30 minutes early on our mailing list
Master of Ballantrae Library Card
by Kaysha Siemens
If any of you have been following my work for a while, you'll know I occasionally have the itch to do tiny drawings on vintage library date-due cards. Every now and then I have a few of them available at shows in person, and they go fast. This is the first time I have offered one through EDO!
I love creating these pieces. I love the juxtaposition of the artwork on the old cards, with their scrawled names and old stamped due dates. I don't make a particular effort to force the drawing to relate to the author or title, yet the card lends the art an intriguing context, and the art in turn elevates the card from ephemera to artifact. Every one of these I make feels like an irreplaceable little treasure.
My favorite thing about this particular card is the correction line through the misspelling of Stevenson as 'Steavenson.' It's such a fun imperfect detail. You can see some of my previous cards at http://www.kayshasiemens.com/library-cards ♡
Graphite on vintage library date-due card, 3×5 inches, mounted and matted to fit any 5×7 inch frame.
$195 $195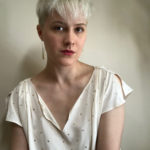 Kaysha Siemens
I was born and raised in Canada, and now make my home near Asheville, NC, USA. My work is primarily figurative and narrative. I work mainly in oil and graphite. My current primary focus is Mnemosyne, an ongoing project inspired by Greek myth.

My goal is the object of beauty, but that goal is achieved through engagement in process, and neither aim is worthwhile without meaning and intention. I seek to talk about the ordinary with the language of story, to arrest with exquisite imagery, and ultimately to leave viewers with a feeling, a lingering sense, that they have had a brush with the sublime.