WANT TO BUY EARLY?
Unlock 30 minutes early on our mailing list
Spring Meditation
by Kaysha Siemens
Tiny study turned tiny oil painting.
I love how miniature paintings feel like little jewels, so small it becomes necessary to lean in close to where they're hung on a wall, or hold them in our hands and bring them up to our faces to absorb all the details. Art and object are truly interconnected in a way that I find incredibly fascinating.
This was a tiny portrait study that I did in graphite on illustration board back during winter, and slowly added color to it (coincidentally) as the natural world outside also bloomed into spring.
Painting is 3 inches square, frame is 7.75 inches square total outer dimensions.
A portion of the sale of this painting will go to The Movement for Black Lives, a coalition of over 100 groups with a national leadership team of experienced organizers and leaders, which regrants dollars to groups around the country.
$200 $200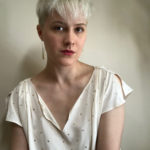 Kaysha Siemens
I was born and raised in Canada, and now make my home near Asheville, NC, USA. My work is primarily figurative and narrative. I work mainly in oil and graphite. My current primary focus is Mnemosyne, an ongoing project inspired by Greek myth.

My goal is the object of beauty, but that goal is achieved through engagement in process, and neither aim is worthwhile without meaning and intention. I seek to talk about the ordinary with the language of story, to arrest with exquisite imagery, and ultimately to leave viewers with a feeling, a lingering sense, that they have had a brush with the sublime.