WANT TO BUY EARLY?
Unlock 30 minutes early on our mailing list
Song of Spring
by Emily Poole
In the western United States, the first sign of spring arrives in the form of spotted towhees. They hop about the undergrowth, popping out to the top of hedges for a song here and there. Meanwhile, coastal manroot snakes its way along the ground, offering up tiny white flowers and miniature fruit that looks like a cross between a cucumber and a hedgehog. The name manroot, or old-man-in-the-ground, comes from the enormous gnarled root of this otherwise delicate vine plant.
The species depicted here are a spotted towhee (Pipilo maculatus) and coastal manroot (Marah oreganus). This painting was created with ink, watercolor, and gouache, and its frame is solid cherry wood. The total dimensions of the framed work are 9″x11″.
Height: 11"
Width: 9"

$325 $325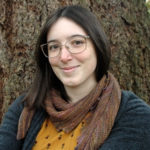 Emily Poole
Emily Poole is a natural history illustrator living in the mossy hills of Oregon. She can be found exploring tidepools and cliffsides, gathering inspiration and making artwork about our fellow species and how to be better neighbors with them.