WANT TO BUY EARLY?
Unlock 30 minutes early on our mailing list
Solitude
by Amelia Leonards
There's a path through the woods that ends in a deep, deep pool.  The faint trickle of water shivers through the air, a melody plucked from the strings of an otherworldly harp by unseen hands.  Jack in the Pulpit flowers glow with an ephemeral light, hooded heads nodding along to the tune.
You've been warned about this place- the locals say that it's Fae, outside of time, that the pool is bottomless and that the flowers are not rooted in this world.  But when you think of this world, of all the misery, pain, and greed, you wonder. . . is that so terrible?
Maybe this place is actually a haven, a secret, shaded spot of rest and renewal.  A place of solitude and reflection, that, if treated with respect and gratitude, will reward you beyond your dreams.
Annwn (An-NOON, with my American accent) is a Welsh word for The Otherworld. It has been described as the haven of Fae, mythical heroes, and even the souls of the dead.  It exists all around and about our world, whispering through leaves and brushing up against us like a curious cat.  If you've ever caught a flash of light, or color, or movement that didn't quite fit in with its surroundings, then you've probably seen through to the other side.  Should you find a doorway through, think carefully before entering. . . you will not be the same when you return.
As always, this piece looks amazing in a gold frame, BUT will be sold and shipped in a white mat.  Why?  Two reasons: A- maybe our frame tastes are WILDLY different, and you'd like to pick your own, and B- trees, like foxes and owls, have an easier time getting to you without glass.  Glass makes them nervous.  I know that sounds odd for a tree, but I just work here. . .
Watercolor on Arches 140 lb cold press
Size: 8.5X13"

$775 $775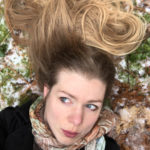 Amelia Leonards
Amelia Royce Leonards is a graduate of Montserrat College of Art in Beverly, where she spent four years baffling her peers and professors with drawings of goddesses and antlered women. Her work is influenced by the beauty of ancient myth, folklore, and the natural world around us. She can usually be found somewhere deep in the woods, sketching odd creatures and eating chocolate chips.