WANT TO BUY EARLY?
Unlock the Add To Cart button
30 minutes early
'SMOKY EYES' Watercolour
by Chris Guest
'SMOKY EYES'
Watercolour on High Grade Paper
22×15 Inches
UNFRAMED
Signed
$495 $495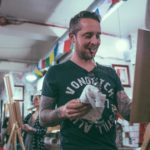 Chris Guest
Chris Guest is a London based Artist.
​
He creates paintings in a classic figurative tradition, coupled with a contemporary twist, utilising classical drawing and oil painting techniques, learnt at London Fine Arts in Battersea.

He began painting and drawing from a very young age, and first started making money from art aged just 14, drawing portraits of music icons for other pupils at school.
At age 18, Chris began showing his work in galleries in Cornwall, and has since exhibited extensively throughout the UK and the US.
His originals and prints are collected worldwide, and his art has been featured in many magazines, publications and galleries around the globe.
Chris also holds regular painting workshops around the UK and US.

www.chrisguest.co.uk
Instagram - @chrisguestartist



EXTENDED GALLERY
Beyond the every day, these are pieces a little bit more than our daily offering.