WANT TO BUY EARLY?
Our collectors get 30 minutes to buy before anyone else.
Shroud of The Soul Keeper
by Steven Black
11″x17″ Prismacolor on toned paper
I'm fascinated with the thin veil between life and death and I use the shrouded figure as one who lives in between both. I love the visuals of the ferry man that takes you to heaven and will be exploring that theme more. The figure has a human face that comes to life and the surface to greet you but deeper inside the shroud the body reveals the death that lies beneath.
$195 $195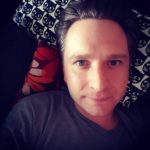 Steven Black
Painter with an obsessive compulsion to champion the odd, fringe, or otherwise unappreciated.
For commissions or questions:
email: shapess@gmail.com



EXTENDED GALLERY
Beyond the every day, these are pieces a little bit more than our daily offering.