WANT TO BUY EARLY?
Unlock 30 minutes early on our mailing list
Ride the Storm
by Dianita
"Ride the storm"
"…Tempest is his name, and I'm no longer afraid of storms. "
– excerpt from my first writing about Tempest (2014)

I watch him run, chasing lightning on every storm. Strong, powerful and yet in his eyes there's glimpses of fear followed by bursts of determination as he runs to catch the next one. I don't know why he does it, if it's a game or a demanding task given to him.
Sometimes I see our kind in him, when life strikes with a challenge we meet it with fear, and then with determination as we try and fail until we conquer it once and again.
I guess we learn to ride the storm as Tempest does. Shy at the beginning but strong and wild as we learn how to conquer our challenges. Maybe someday I'll learn to trust myself enough to face the storms in my life, to conquer my fears.
To ride the storm like Tempest does. "
This piece is inspired by an old piece of mine called "Tempest". I've always wanted to make a full body portrait of "Tempest" to portray him as he exists in my mind. For me, horses are my unicorns as they have a very special meaning in my life.
I used graphite (mechanical pencils, powder, pencils) on a page of my Moleskine art book and a few hints of metallic paint. I left the edges as they were when I cut them, this doesn't interfere with the framing.
Colors might vary between devices, I do my best to portray the real look of the piece. This piece will arrive framed and ready to hang.
Drawing size: 8 ⅙  in x 11 11/16 in
Framed: 13 ⅞ in x 16 ⅞  in. It includes acrylic instead of glass.
Other way to support my work:
https://www.patreon.com/artbydianita
Width (Drawing): 8 1/16 in
Height (Drawing): 11 11/16 in
Width (Frame): 13 7/8 in
Height (Frame): 16 7/8 in
Surface: Paper

$365 $365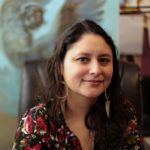 Dianita
Dianita is a fantasy artist born in Veracruz, Mexico. She has found that Fantasy provides her with the perfect language to portray her deepest emotions. It's where she finds freedom to explore fears, hopes and that wish for connection between all living creatures and our world.

Cover artist for Mermaids Monthly magazine (April 2021). Artist for "The Unbridled Spirit Tarot" (Llewellyn, 2024).