WANT TO BUY EARLY?
Unlock 30 minutes early on our mailing list
Recognition
by Sam Hogg
And, lo, the comprehension took
flesh froze to stone in just one look
I've always found the myth of Medusa fascinating, especially those versions where much of what was visited upon her was not her fault. When I came across this frame, I knew I wanted to do a medusa piece, something that portrayed her as a more sympathetic figure, a being who simply wished to dedicate her life to Minerva/Athena and having her life torn down because of her beauty.  Imagining the moment she first realises her gaze turns any living thing she gazes on to stone always struck me as such a sad moment.
The piece comes framed as shown, the frame is 8.5  x 6.5 inches.
Painted surface is 5 x 3 inches
 Please note this piece is shipped from the UK. Recently our national mail carrier, who I usually post with, fell victim to a cyber attack that disrupted international shipping quite considerably. This piece is not suitable if you need it quickly, as delays are still actively happening to international mail and are beyond my control. UK buyers should be fine. 
$395 $395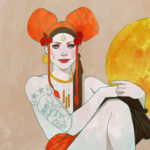 Sam Hogg
With a love of fantastical and narrative imagery, illustrator and concept artist Sam Hogg's career has spanned a multitude of genres across the entertainment industry. She has worked with clients such as Playground Games, Blizzard, Dark Horse Comics, Critical Role, Rocksteady and many more over the course of her 10-year career. Beyond her professional work, she can be found bringing her elegant, feminine aesthetic to a dark fantasy world of whalers and pirates in her personal project, The Whaler Girl.