WANT TO BUY EARLY?
Unlock 30 minutes early on our mailing list
Raise Your Words
by Kelsey Garland
"Raise your words, not your voice.
It is rain that grows flowers, not thunder."      – Rumi
Acrylic, Alcohol Ink, Dried hydrangeas, preserved bumble bees and Polymer Clay encased in ArtResin
8 Inch Circle – 1.5 inches thick – 1.75 lbs
**NO Bees were harmed in the making of this painting – all preserved bees were already dead when found**
A piece that encompasses all of my favorite mediums into one, ohh how I love to encase different things in layers of Resin.
This mixed Media artwork is made with ArtResin primarily, but each layer is entirely new process. The background layer is made with alcohol inks, mixed with dried flowers and a little alcohol ink, I also added 1 preserved Bumble bee that I collected from my yard. On the next layer I attached some hand-crafted polymer flowers that I painted and then painted several bees in Acrylic – I also added one more preserved bumble  bee. Next, I added a clear layer of resin for layer 3, and on layer 4 I painted more bees and added polymer flowers to give the piece more depth. layer 5 was a gloss coat to cover the whole painting and preserve it.
I enjoy working with resin and creating layers with my paintings, I love to use Resin as a substrate and no other backing, this allows me to create a painting of whatever size/shape I want and have clear edges where you can visiably see my layers of work. I also love working with nature and collecting items I find on my nature walks. you will often find skeleton leaves, shells, rocks, dried flowers from my garden and sometimes preserved bees  or butterflies in my artwork. All of which I collect and preserve myself for future artwork.
$360 $360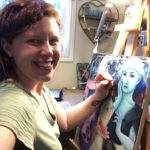 Kelsey Garland
Kelsey Garland is a Mixed Media Painter who uses ArtResin and Oil Paint to create unique three dimensional artwork. Her paintings often depict realistic animals or figures on top of a geometric pattern and an abstract alcohol ink background. She uses Resin to "layer" her paintings, alternating between detailed Oil imagery and thick layers of transparent Resin.

Kelsey graduated from Cornish College of the Arts in Seattle with a BFA in Fine Art. She is now a Stay at Home mom to two boys in the Tacoma area.