WANT TO BUY EARLY?
Unlock 30 minutes early on our mailing list
Quinlan Vos; The Line
by Jeremy Wilson
A depiction of the Jedi, Quinlan Vos. Vos notoriously joined the dark side and killed many in an attempt to go undercover and discover the mysterious Sith Lord (Sidious). He was the only Jedi master to survive Order 66. He walked the line morally and sacrificed everything for the Jedi path.
This image was displayed at Gallery Nucleus in 2014 for a Star Wars exhibit.
Painting is frame and matted with glass.
$485 $485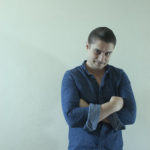 Jeremy Wilson
Jeremy Wilson is a Virginia transplant, living and working in Richmond. He grew up in a small town in Upstate New York in an art household, surrounded by fine art and classic illustration. His background was traditional painting at the Lyme Academy College of Fine Art and since has been pushing the limits of painted versus negative space. He seeks to perfect his images through design and negative space, carefully curating shapes to imply space.
He has done work for Editorial, Book, Magazine, and Comics. Most recently working for: Scientific American Magazine, Boom! Comics, Titan Comics, and Wizards of the Coast.

His images have been included in Spectrum 20, 21, 22, 24 Society of Illustrators West: 54, 55, Infected by art 1, 3, ARC Salon 2013, and at the Society of Illustrators for the Spectrum exhibit 2014.

His work has been awarded medals for:
Society of Illustrators Los Angeles 54; Gold (Editorial)
Society of Illustrators Los Angeles 55 Gold, Bronze (Book), Gold, Bronze (Comics), Gold (Entertainment Development), Silver (Gallery)
Spectrum 24; Gold (Comics)