WANT TO BUY EARLY?
Our collectors get 30 minutes to buy before anyone else.
Poison Apple
by Nicole Grosjean
Take a bite out of a true poison apple, complete with a glowing skull core and surrounded by belladonna plants. This unique piece will certainly be a conversation starter both during the light of day and especially after dark.
Product Height 12": 6"
Product Width 16": 4"

$250 $250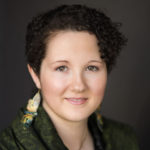 Nicole Grosjean
Nicole Grosjean graduated with a BFA in illustration from the Rocky Mountain College of Art + Design in Denver, Colorado in 2008. She combines her passions for fantasy and craftsmanship into unique, multi-layered works of art. To her, there is nothing more valuable than an object an artist has created with their own hands. She endeavors to build pieces that are not only illustrations, but wonderfully complex environments in their own right. Nicole is constantly trying new techniques and pushing the boundaries of materials and mediums to bring her visions to life.

Her sculptural illustrations are patterned from detailed drawings, hand-cut, and then layered to create various depths depending on the size of the piece. The layers are then painted in watercolor and gouache, and are often back lit with LED lights.



EXTENDED GALLERY
Beyond the every day, these are pieces a little bit more than our daily offering.