WANT TO BUY EARLY?
Unlock the Add To Cart button
30 minutes early
Paws & Claws
by Emily Poole
Crowberry and bearberry are two common groundcover plants on the central Pacific coast. The feather-dark berries of the former climb over rocky promontories, and the soft red fruit of the latter peeks from merry green hedges that creep across sandy dunes.
If you are (or aspire to be) a hedgewitch living in a salt-stained cottage clinging to the edge of the seacliffs, this artifact is the kitchen decor item for you.
Height: 14.5"
Width: 7.5"
Depth: 1.5"
Weight: 3 lb

$230 $230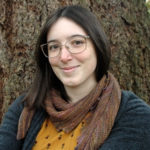 Emily Poole
Emily Poole is a natural history illustrator living in the mossy hills of Oregon. She can be found exploring tidepools and cliffsides, gathering inspiration and making artwork about our fellow species and how to be better neighbors with them.
EXTENDED GALLERY
Beyond the every day, these are pieces a little bit more than our daily offering.