WANT TO BUY EARLY?
Unlock 30 minutes early on our mailing list
Passenger
by Kaysha Siemens
A quiet fleeting moment, a portrait of something lost.
4×6 inches, egg tempera on panel.
The historical precursor to oil painting, egg tempera is a delicate and beautiful medium that is as rewarding as it is painstaking. There is no blending; every stroke dries quickly but crisply, therefore gentle transitions are created not by blurring the paint while wet, but by laying down hundreds of translucent marks one at a time until softness and luminosity are achieved. I have recently rediscovered my years-long love for egg tempera, and this piece is a shameless homage to one of my favorite working artists, and a mentor to me in the medium, Julio Reyes. If you don't know his work already I heartily recommend it.
This piece is not yet framed (I usually photograph my work in a frame, but egg tempera has a very delicate surface until it has cured for a few days, so I elected not to in this case), but will be shipped in a 4×6 inch frame unless the collector prefers I ship it unframed.
To see more of my work, visit my website at www.kayshasiemens.com, and follow me @kayshasiemens on Twitter and Instagram.
$500 $500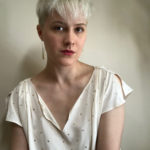 Kaysha Siemens
I was born and raised in Canada, and now make my home near Asheville, NC, USA. My work is primarily figurative and narrative. I work mainly in oil and graphite. My current primary focus is Mnemosyne, an ongoing project inspired by Greek myth.

My goal is the object of beauty, but that goal is achieved through engagement in process, and neither aim is worthwhile without meaning and intention. I seek to talk about the ordinary with the language of story, to arrest with exquisite imagery, and ultimately to leave viewers with a feeling, a lingering sense, that they have had a brush with the sublime.