Our Deepest Places Glow Like A Hundred Thousand Stars
by Emerald Barkley
"Our Deepest Spaces Glow Like A Hundred Thousand Stars" is a reflection on how our deepest places – the ones that are the most tender and the most vulnerable – often glow with our warmest light. My hope is that we continue to be brave and engage these spaces: gently perhaps at first, but with growing confidence;  passing over them again and again as we wear through the tarnish of a lifetime's worth of doubt and cynicism. Perhaps if  we can feel the light of our own well and truly burnished heart within ourselves, then we will be better able to honor it in others.
Dimensions are 9″ x 12″ (9.5″ x 13″ including border)
Medium: Watercolor
This painting will ship unframed.
Product Height 12": 12 inches
Product Width 16": 9 inches
Product Surface Linen: Arches Watercolour Paper

$370 $370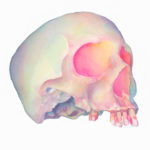 Emerald Barkley
Emerald Barkley is a watercolor and mixed media artist from Northern California. Emerald uses a colorful palette and personal symbolism drawn from the natural world to create work about mindfulness, ego, and mental health.
They enjoy hiking and peach cobbler.

https://www.patreon.com/emeraldbarkley