Orchid faery
by Iris Compiet
The orchid faeries are masters of disguise, camouflaged they hide amongst the real flowers.
Only their songs and distinguished scent will give them away. Both sweeter than any flower will ever be able to produce. Take a moment, breathe deep and listen.
Faeries of the Faultlines
measurements: artwork is approx. 9" ø Comes in black matte 11"x11"
Product Surface: 100% cotton watercolor paper
Product Surface: Arches

$500 $500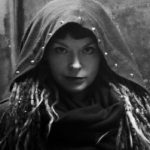 Iris Compiet
Iris Compiet is a traditional artist from the Netherlands. She's an illustrator with international clients, exhibits in galleries around the world and creator of the Faeries of the Faultlines. A book written and illustrated by her, documenting faeries. Storytelling is an essential part of her artwork, and as an artist she strives to lure in the spectator, to make them feel a connection to the work and open a gateway to their imagination to ignite it even further. Her work has been featured in Spectrum, Infected by Art, ImagineFX, and Graphite Magazine
HOLIDAY SHOPPING?
We are gifting FREE shipping through Dec 23rd
CHECK OUT THE LATEST RELEASE