WANT TO BUY EARLY?
Unlock 30 minutes early on our mailing list
Nocturne
by Danny Schwartz
I love warm, dark summer nights where anything feels possible. I also love nocturne paintings, even though I haven't painted many. It's funny how when I see things at night, even though the world is bathed in deep blues, I don't think I always perceive these colors at the time. But then when I bring up my own memories of things that have happened at night, my mind's eye assigns these colors, like I'm putting a filter over photographs. Were they always there, and I was just too focused on the lack of light to see them? Or is it something else? I think sometimes I use color when I picture things as a stand in for emotion and feeling — I saturate my own memories with a deep, warm palette. When I paint something like this, I'm trying to use the color to communicate something I can't even really describe. It's just a feeling.
This painting is 5″ by 7″, acrylic on illustration board, in a 11 x 14″ frame (artwork comes fully framed).
Product Width: 5 inches
Product Height: 7 inches

$300 $300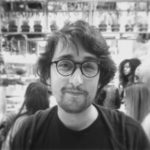 Danny Schwartz
Danny Schwartz is an illustrator, painter, and character designer living and working in Brooklyn, New York.

Other ways to support my work:
Print Shop: https://www.inprnt.com/gallery/dannyschwartzart/