Night Flight
by BabsWebb
Powdered Graphite & White Acrylic on Vellum Bristol Board
Twin witches fly together on a moonless night while taking on the forms of their animal familiars.
12×12 inches (framed)
Product Height: 12 inches
Width: 12 inches
Product Surface: Bristol Board

$350 $350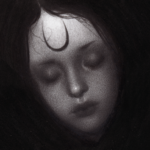 BabsWebb
Babs Webb is a Colorado-based dark fantasy artist with an affinity for the occult. Through strongly symbolic visuals, she strives to convey the visceral emotions that push the boundaries of our humanity; a shrewd clash of psychology and fantasy.