WANT TO BUY EARLY?
Unlock 30 minutes early on our mailing list
Nesting Nighthawk
by Emily Poole
At dusk above a gravelly streambed in the Cascades wilderness, a female common nighthawk hunches half-asleep in the shallow dip of pebbles at the base of a bank of alpine lupine that she has chosen for a nest. Suddenly the evening silence is broken by the roar of what sounds like a passing truck. Startled awake, the bird looks to the sky to see a male nighthawk just pulling out of a sharp dive. The dramatic acrobatics of the flyer are responsible for the sound- a strategically echoing sound of air rushing through feathers that is designed to attract her attention. As the male wheels above her with a piercing croak, the nighthawk considers whether she will answer.
This ink and watercolor painting is 8 x 10″, framed in solid cherry wood for total dimensions of 9 x 11 x 1.5″.
$395 $395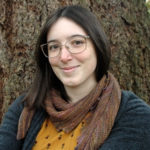 Emily Poole
Emily Poole is a natural history illustrator living in the mossy hills of Oregon. She can be found exploring tidepools and cliffsides, gathering inspiration and making artwork about our fellow species and how to be better neighbors with them.