WANT TO BUY EARLY?
Unlock the Add To Cart button
30 minutes early
Nephila
by MyriamTillson
The Golden Silk Orb-weaver spider, or Nephila, is a large type of spider known for the size of its web, so big it occasionally traps small birds or rodents. It is harmless to humans and has been regularly exploited for its beautiful golden silk. It sits alone, in the middle of its web, both admired and feared.
There is little more beautiful than what is both fragile and frightening, don't you think?
Dimensions : 26 x 36 cm / 10.2 x 14.18 in (includes a 0.5 mm white border)
Thickness : 2.5 mm
Medium : Acrylic on watercolour board, with black card backing.
Signed on front bottom right.
Comes unframed.
Product Height: 14.18 inches / 36 cm
Product Width: 10.2 inches / 26 cm
Product Surface / Material: Watercolour paper on board

$450 $450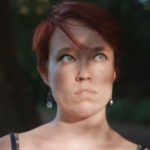 MyriamTillson
Myriam Tillson is a traditional painter from France, living and working in London, UK.

Her primary mediums are watercolour, gouache, and acrylic, and her themes center around the human experience and our relationship to ourselves and the world around us. Her work is introspective and based in symbolism and self-reflection.



EXTENDED GALLERY
Beyond the every day, these are pieces a little bit more than our daily offering.