WANT TO BUY EARLY?
Unlock 30 minutes early on our mailing list
Movie Sign
by Nicole Grosjean
"We have Movie Sign!"
Whenever I'm feeling down, Mystery Science Theater 3000 always cheers me up! I had so much fun creating this MST3K piece of 'The Crawling Eye" which is one of my favorite episodes. I designed and laser cut the matboard to look like my TV from the 90's, with accents of oxidized silver and 13K white gold leaf. The title is laser etched in plexiglass and filled with glow powder and resin. Finally, I hand cut the monster from Stonehenge drawing paper, and finished it in graphite and gouache. I'm hoping fellow Mysties will love this piece as much as I loved making it!
Height: 10"
Width: 10"

$425 $425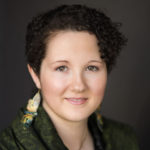 Nicole Grosjean
Nicole Grosjean graduated with a BFA in illustration from the Rocky Mountain College of Art + Design in Denver, Colorado in 2008. She combines her passions for fantasy and craftsmanship into unique, multi-layered works of art. To her, there is nothing more valuable than an object an artist has created with their own hands. She endeavors to build pieces that are not only illustrations, but wonderfully complex environments in their own right. Nicole is constantly trying new techniques and pushing the boundaries of materials and mediums to bring her visions to life.

Her sculptural illustrations are patterned from detailed drawings, hand-cut, and then layered to create various depths depending on the size of the piece. The layers are then painted in watercolor and gouache, and are often back lit with LED lights.