WANT TO BUY EARLY?
Unlock 30 minutes early on our mailing list
Mountain's Lament
by Jonah Lobe
Drawing from my long history of fantasy art (I made art for games like Skyrim), this is a pen-and-ink piece made with care and detail.  I came upon the concept organically, working with shapes and themes.  When it comes to the subject matter, I'd rather have people make their own connections, but this piece of work will be the subject of one of my YouTube videos, so I can guarantee that literally thousands of people will watch this image come together… but only one person (you) will own it!
Dimensions of the artwork are 5″x 8.5″, with white space a full 1.5″ all around.
Product Height: 8.5 inches
Product Width: 5 inches
Product Surface / Material: Paris Paper

$500 $500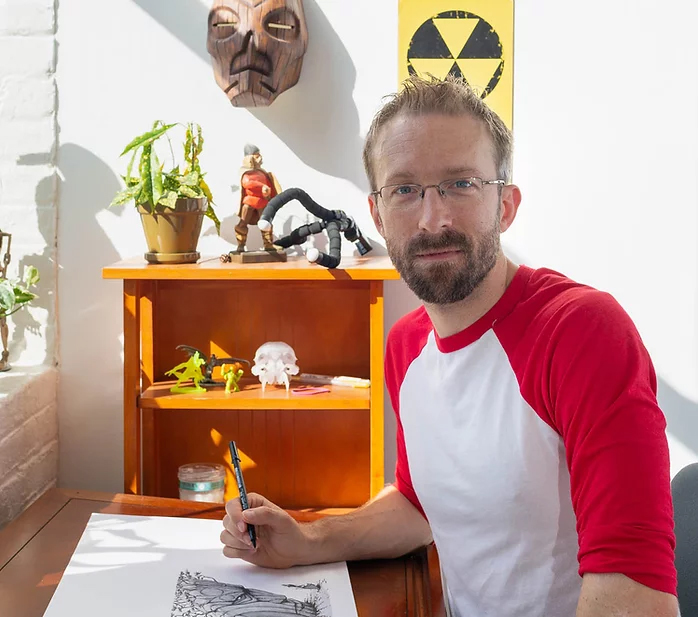 Jonah Lobe
Jonah Lobe is an artist, game developer and educator specializing in character art, concept art, and 3D art for games. For 7 years, Jonah worked at Bethesda Softworks, where he was responsible for many of the monsters, characters, and weaponry found in titles like Fallout 3, Fallout 4, & The Elder Scrolls V: Skyrim. His first illustrated book, the massive tome Marvel Anatomy: A Scientific Study of the Superhuman, will be released on October 25th, 2022.