WANT TO BUY EARLY?
Unlock 30 minutes early on our mailing list
"Monchi's Quest"
by Corina St. Martin
While the Mitchell's were getting ready to save the world Monchi the dog was also on a quest. A quest to save his beloved red gummy bear Albert from the neighbor dog Flower.  It seemed that nearly every day Flower had nothing better to do than taunt Monchi and one day she stole his favorite squeak toy and promptly took a nice long nap on it. There was nothing to be done, until the day the earth was attacked by killer robots. Monchi had one shot to grab Albert before his precious toy was lost forever and he took it! After the daring rescue Monchi hopped on his magical doughnut (which nobody knew about) and high tailed it out of there making it back to the family car in the nick of time. He's vowed to never let Albert out of his site again, well at least one eye will be on the toy.
Height: 6"
Width: 4.5"
Depth: 5"

$450 $450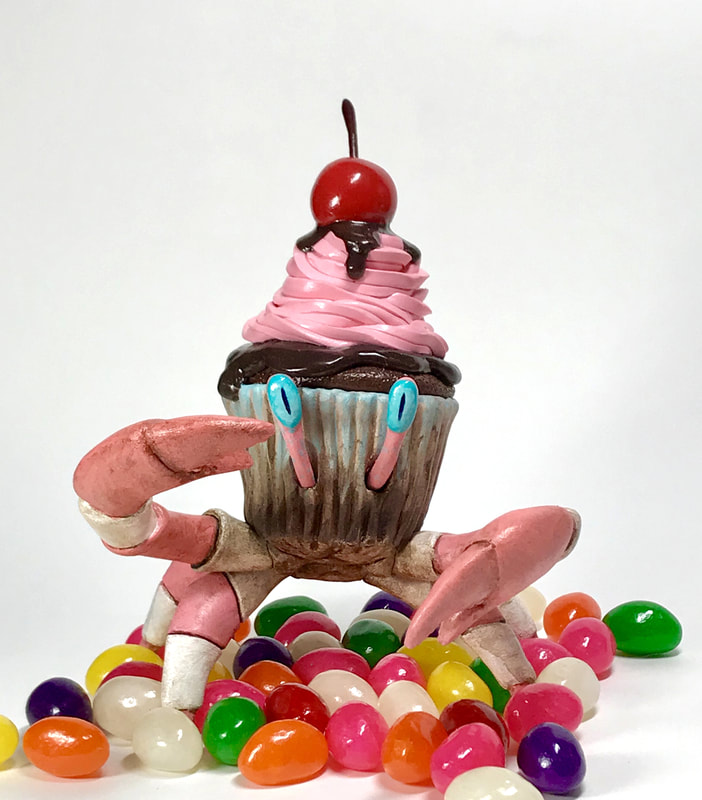 Corina St. Martin
I am a sculptor and painter living in Richmond, Indiana. The work that I've been creating for the past couple of years combines my love of animals, desserts (mostly fancy), bright colors and surrealism. My overall goal is to bring more joy into the world through the creation and sharing of my sculptures and paintings. I hope they bring a smile to all who see these funny characters!

Other ways to support my work
Shop: www.corinastmartin.com
Patreon: www.patreon.com/corinastmartin
Abend Gallery: https://abendgallery.com/artist/corina-st-martin