WANT TO BUY EARLY?
Unlock 30 minutes early on our mailing list
Mi desayuno favorito
by Dianita
"My favorite breakfast
It's the weekend and Juanita's house becomes a tiny food spot for neighbors in her street. Early in the morning her Mom and her helpers prepare different recipes that will go on the delicious picadas, empanadas and more. The aroma is magical, enough to wake Juanita and Benito up and get ready in a rush to go out to their small garage, choose a table and start eating the incredible array of their favorite foods, specially cheese empanadas!"
This is a painting inspired in my home state and my favorite breakfast: picadas and empanadas. Eating them with my family, from either my aunt or a house nearby. With friends in college or with other friends after conventions. With cousins, traveling to eat picadas that my Grandma made, then when it got harder for her to cook an aunt prepared them. Equally delicious, and always an open door for memories to form. Making them here, in another country has been a hard task, but I'm getting there (I hope).
I seem to always have a piece of Juanita and Benito around April or May. April 30th is Children's day in Mexico so I always go back to cute, fun art to keep that connection to this day with characters I enjoy to paint.
This little illustration was created a few months ago to be part of a Latinx Anthology about sports and food. I used acrylics and color pencils on mixed media paper.
Details:
The artwork area is 8 x 10.5in and the paper's size is 8.5in x 11in. It' comes with a mat cut to size to avoid loss of details and it fits a 11in x 14in frame (not included).
International customers: You might need to pay custom fees in your country (like VAT) to receive this package.
$315 $315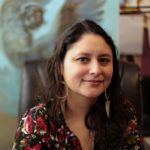 Dianita
Dianita is a fantasy artist born in Veracruz, Mexico. She has found that Fantasy provides her with the perfect language to portray her deepest emotions. It's where she finds freedom to explore fears, hopes and that wish for connection between all living creatures and our world.

Cover artist for Mermaids Monthly magazine (April 2021). Artist for "The Unbridled Spirit Tarot" (Llewellyn, 2024).