WANT TO BUY EARLY?
Unlock 30 minutes early on our mailing list
Luminous
by Amelia Leonards
Life presents us with choices.  Some are big, some are small.  Some glitter darkly in pale blue firelight, others are dim shadows melding into formless ether.  Some may take us where we wish to go, while others certainly will not.
Owls are one of the few creatures that travel between our world and other realms, collecting and hoarding their knowledge like bright keys that unlock mysteries beyond our comprehension.  Which door do you wish to unlock?  Which path forward will you choose?  Take the time to choose carefully, but don't allow indecision to paralyze you.  And if assistance appears, nudging you down a certain path, always stop to listen.
As always, this piece looks amazing in a gold frame, BUT will be sold and shipped in an 11×14″ white mat.  Why?  Two reasons: A- maybe our frame tastes are WILDLY different, and you'd like to pick your own, and B- the owls have an easier time flying to you without glass.  Glass makes them nervous.
Watercolor on 140lb Arches Cold Press
Product Surface / Material: 140 lb Cold Press
Product Height: 9"
Product Width: 7"

$375 $375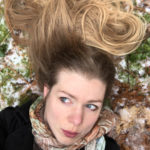 Amelia Leonards
Amelia Royce Leonards is a graduate of Montserrat College of Art in Beverly, where she spent four years baffling her peers and professors with drawings of goddesses and antlered women. Her work is influenced by the beauty of ancient myth, folklore, and the natural world around us. She can usually be found somewhere deep in the woods, sketching odd creatures and eating chocolate chips.