WANT TO BUY EARLY?
Unlock the Add To Cart button
30 minutes early
Kinship
by Sam Hogg
'Born of fire, the light to bring,
Through azure sky, on burning wing.'
6 x 8 inches, mixed media (watercolor, gouache, ink) on hot press watercolour paper. Leaves, belt, headband and bracers are gold metallic paint. Painted in parts with neon orange acrylic, this piece has an amazing glow  in the hair, owl and wings that's hard to capture with photography.
Comes complete with distressed pale blue frame, framed to 8 x 10 inches.
Shipped from the UK.
Height: 8 inches
Width: 6 inches
Surface: Hot press watercolour paper

$435 $435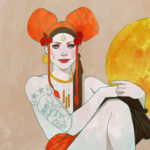 Sam Hogg
With a love of fantastical and narrative imagery, illustrator and concept artist Sam Hogg's career has spanned a multitude of genres across the entertainment industry. She has worked with clients such as Playground Games, Blizzard, Dark Horse Comics, Critical Role, Rocksteady and many more over the course of her 10-year career. Beyond her professional work, she can be found bringing her elegant, feminine aesthetic to a dark fantasy world of whalers and pirates in her personal project, The Whaler Girl.
EXTENDED GALLERY
Beyond the every day, these are pieces a little bit more than our daily offering.