WANT TO BUY EARLY?
Unlock 30 minutes early on our mailing list
Jon Snow's Nightmare (The burning of Eddard Stark)
by Jeremy Wilson
"Whatever demonic force moved Othor had been driven out by the flames; the twisted thing they had found in the ashes had been no more than cooked meat and charred bone. Yet in his nightmare he faced it again…and this time the burning corpse wore Lord Eddard's features. It was his father's skin that burst and blackened, his father's eyes that ran liquid down his cheeks like jellied tears. Jon did not understand why that should be or what it might mean, but it frightened him more than he could say." -George R. R Martin, A Game of Thrones
This painting was done for the card, "Nightmares" for the Game of Thrones, Trading card game.
$400 $400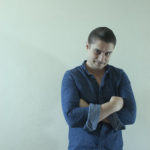 Jeremy Wilson
Jeremy Wilson is a Virginia transplant, living and working in Richmond. He grew up in a small town in Upstate New York in an art household, surrounded by fine art and classic illustration. His background was traditional painting at the Lyme Academy College of Fine Art and since has been pushing the limits of painted versus negative space. He seeks to perfect his images through design and negative space, carefully curating shapes to imply space.
He has done work for Editorial, Book, Magazine, and Comics. Most recently working for: Scientific American Magazine, Boom! Comics, Titan Comics, and Wizards of the Coast.

His images have been included in Spectrum 20, 21, 22, 24 Society of Illustrators West: 54, 55, Infected by art 1, 3, ARC Salon 2013, and at the Society of Illustrators for the Spectrum exhibit 2014.

His work has been awarded medals for:
Society of Illustrators Los Angeles 54; Gold (Editorial)
Society of Illustrators Los Angeles 55 Gold, Bronze (Book), Gold, Bronze (Comics), Gold (Entertainment Development), Silver (Gallery)
Spectrum 24; Gold (Comics)