WANT TO BUY EARLY?
Unlock 30 minutes early on our mailing list
Innocence
by Dianita
"She believed that she was a monster without asking questions. Convinced that what was done to her didn't matter. That she was wrong for believing otherwise and being hunted for a reputation full of lies, while living in fear searching for kindness and love.
But that unicorn wasn't scared of her, he let her approach and she held him with a warm embrace.  He wasn't scared of her. It was like holding that past self, the one that was innocent and full of hope and love to give. She allowed herself to believe she was worthy of love too."
There's a memory that will live forever in my heart. The exact moment when I embraced again the things I lost. Thanks to my time in therapy I'm now kinder to myself. I was finally able to realize many things about my past and my present. Not to mention things that I would like to change about myself.
This painting is a tribute to those sessions that changed my life. It is also a tribute to friends and strangers going through the scary process of healing. I have included Medusa in my work as a redeemed character. Peaceful and willing to know herself on her own terms.
When I created the drawing for this painting, I made it for Month of Love 2021 and the theme was "embrace". This painting is about looking back and recognize our innocence again. To embrace it and start being kind to ourselves.
Oils on paper on board.
Framed ( 15 1/4 in x 19 1/4 in total size)
Please allow an extra week for shipping.
If you live outside of the USA, you might need to pay custom fees to receive your package.
Size: 12 in x 16in

$1,750 $1,750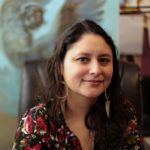 Dianita
Dianita is a fantasy artist born in Veracruz, Mexico. She has found that Fantasy provides her with the perfect language to portray her deepest emotions. It's where she finds freedom to explore fears, hopes and that wish for connection between all living creatures and our world.

Cover artist for Mermaids Monthly magazine (April 2021). Artist for "The Unbridled Spirit Tarot" (Llewellyn, 2024).