WANT TO BUY EARLY?
Unlock 30 minutes early on our mailing list
In your heart
by Dianita
In the past month and a half I started re-watching my favorite cartoon from when I was a child. It was a fun and  heartwarming re-encounter after decades!
It got me thinking about how much I've stolen from myself the opportunity to watch it over and over. To laugh at phrases that didn't make sense, to marvel at the animation that was my safe space a long time ago. Well, to just enjoy it. I have no idea why I didn't allow myself to have great times watching something that made me feel happy. It reminded me to a Phoenix, that dies and comes back from its ashes. Our memories, the things we enjoy move to a secondary place because we need to take care of the present. Then, we find them again, and they ignite that spark that made us who we are today.
Could it be that this fire exists in our hearts? Maybe… like the Phoenix they fly back from the ashes in all its glory and with them, we find ourselves again.
Perhaps it's just wishful thinking, or maybe I just wanted a reason to put a Phoenix in a painting because my favorite character is the Saint of Phoenix (Saint Seiya anime). But I've found something again and I'm so happy and thankful that I did.
This painting was created with acrylics on panel. It will be varnished with gloss varnish. The frame shown here is for display only, or I can include it if you wish.
Size (unframed) is 5in x 7in.
Ships from the USA. If you're an international customer, please be aware that you might need to pay your country's tax to receive this package.
Size: 5in x7in.

$300 $300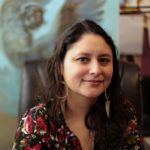 Dianita
Dianita is a fantasy artist born in Veracruz, Mexico. She has found that Fantasy provides her with the perfect language to portray her deepest emotions. It's where she finds freedom to explore fears, hopes and that wish for connection between all living creatures and our world.

Cover artist for Mermaids Monthly magazine (April 2021). Artist for "The Unbridled Spirit Tarot" (Llewellyn, 2024).