WANT TO BUY EARLY?
Unlock 30 minutes early on our mailing list
Ignis
by Kaysha Siemens
"Ignis" is a tiny hand-pulled drypoint intaglio etching. It is part of a very small edition (number 2 of 14), and no two prints in the edition are identical. Furthermore, it has been made truly one-of-a-kind for Every Day Original with the addition of a gentle wash of warm golden-yellow watercolor over the flame, and hints of graphite wash in the shadows. No other prints in the edition have these extra touches.
Tiny is no jest: the printed image is only 2 inches high and 3/4 inch wide, and the paper is 3 x 4 inches. It is framed in a 4 x 5 inch antique gilded frame (outer dimensions of the frame are 5 5/8 x 6 5/8 inches). I have photographed it without glass, but will ship it with glass (or plexiglass for safety if the collector prefers), properly spaced away from the artwork so it does not come in contact with the paper.
If you are interested in one of the other prints from the edition, unframed and with no embellishment, please contact me directly at kaysha.siemens@gmail.com.
To see more of my work, visit my website at www.kayshasiemens.com, and follow me @kayshasiemens on Twitter and Instagram.
$115 $115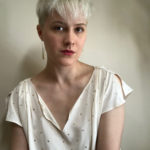 Kaysha Siemens
I was born and raised in Canada, and now make my home near Asheville, NC, USA. My work is primarily figurative and narrative. I work mainly in oil and graphite. My current primary focus is Mnemosyne, an ongoing project inspired by Greek myth.

My goal is the object of beauty, but that goal is achieved through engagement in process, and neither aim is worthwhile without meaning and intention. I seek to talk about the ordinary with the language of story, to arrest with exquisite imagery, and ultimately to leave viewers with a feeling, a lingering sense, that they have had a brush with the sublime.