WANT TO BUY EARLY?
Unlock 30 minutes early on our mailing list
I Am Prayer Again
by Christopher Moeller
"How I yearn to belong to something, to be contained in an all-embracing mind that sees me as a single thing.
And I yearn to be held in the great hands of your heart.
Oh let them take me now.
Into your hands I place these fragments, my life, and you my God spend them however you want."
-from "I Am Prayer Again", by Rainer Maria Rilke
---
$400 $400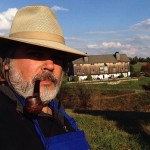 Christopher Moeller
For twenty-six years I used my art to build imaginary worlds, populated by fantastic creatures. More recently, my desire for invented worlds has given way, unexpectedly, to a love affair with this world. I am experimenting with new approaches, both in terms of subject matter and craft. I am developing my instinct for authenticity... for things with real power. I find myself drawn to landscapes, both outward and internal, that feel real. My paintings document a slow, often frustrating, recommitment to the fundamentals of art, and a reconnection to the human experience.