WANT TO BUY EARLY?
Unlock 30 minutes early on our mailing list
HIBERNATION: The Cycle Repeats
by Shirley Jackson
Nature is composed of numerous cycles – the cycle of the seasons; the cycle of migrations; the cycle of life and death.
Bears experience the cycle of hibernation – going dormant during the long, harsh winter and reawakening during the spring.
And when a bear breathes its last breath, it still plays a vital part in the sacred cycle of life and death by bringing nourishment to the living (both flora and fauna) allowing the cycle to repeat.
Acryla gouache on basswood
Approximately 9.5 x 7.25 inches
Comes ready to hang!
$320 $320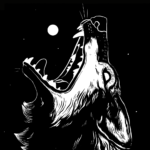 Shirley Jackson
Shirley Jackson aka LIONINTHETREES is a Black and Korean artist residing in Central California with her German Shepherd Dog, Eden and the spirit of her iguana, Ness (RIP).

Shirley holds a BFA in Visual Communications from Weber State University. Her body of work heavily features animals and the natural world infused with magic, folklore, and her roots as a printmaker. She works in both traditional and digital mediums; and has now danced her way into product design.

Shirley is also the pioneer when it comes to running Kickstarters to fund enamel pin projects. Her cutie Scrub Jay pin which debuted in 2016 on Kickstarter kicked off the enamel pin Kickstarter trend.

Shirley's mantra when it comes to creating is: Own, love, and believe in what you create.

1. Be responsible for the work you bring into the world.
2. Love what you do.
3. Believe in yourself and the work you create.