WANT TO BUY EARLY?
Our collectors get 30 minutes to buy before anyone else.
Hel
by TawnyFritz
Hel, Queen of the Underworld, daughter of Loki and Angrboda, sister of Jörmungand and Fenrir. Get lost in the many subtle details interwoven throughout the piece.
Based on Neil Gaiman's stories, Norse Mythology.
Hel will be shipped securely, unframed so as to allow you to find the perfect frame to match your home decor.
She is INK on Ampersand Claybord, 11″x14″ (standard size)
Product Height 12": 14 inches
Product Height 12": 14"
Product Surface Linen: Ampersand Panel
Product Surface Linen: Ampersand Claybord
Product Width 16": 11"
Product Width 16": 11 inches

$395 $395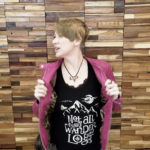 TawnyFritz
What day is it?

Tawny Fritz is from New Orleans. That should say all you need to know about the chaos that reigns inside her brainmeats, but how about some more info anyway? Tawny likes ink (a lot). She likes knives, nature, and for her art, confrontational subjects that stare into your soul. She also unironically loves long walks on the beach at sunset.

For personal commissions: info@tawnyfritz.com



EXTENDED GALLERY
Beyond the every day, these are pieces a little bit more than our daily offering.