WANT TO BUY EARLY?
Unlock the Add To Cart button
30 minutes early
Glint
by Stephanie Law
Watercolor & gold leaf
6×6 inches, framed 10×10 inches
At the park one summer's day, and I chanced to look up. The sky was filled with enormous dragonflies and damselflies, glinting in the sunlight. 20 feet above my head and unnoticed for the most part, their own plane of existence if I hadn't chanced to lift my gaze.
It's a reminder to lift your gaze now and then and see beyond what's in your expected radius.
$400 $400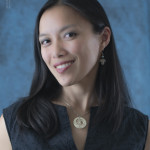 Stephanie Law
Other ways to support my work
Website Shop: https://www.shadowscapes.com
Patreon: https://www.patreon.com/StephanieLaw

Stephanie Law's work is an exploration of mythology mixed with her personal symbolism. Her art journeys through surreal otherworlds populated by dreamlike figures, masked creatures, and winged shadows. The fantastical permeates through the visions, and you get a sense that this is a world that underlies our own.

Archetypes, the basis for the universal appeal of mythological concepts, are one of the defining inspirations for her imagery. This is mingled with the movement of dance. Stephanie has been a dancer for almost two decades, and she uses that experience of how the human body moves and emotes to create a bridge into her artwork so that not only do the humans dance across the page, but the very branches of her trees seem to move with a sinuous grace, and the arrangement of inanimate elements has a choreographed rhythm and flow.

Growing up in California, Stephanie has been surrounded by the wealth of natural inspiration all around her. The twisting boughs of live oaks from the hills near her home insinuate themselves into her paintings. The chaos of Nature's wild growth, and conversely the beauty of decay, echo in the textures and fractal patterns of her work.

Her techniques are mostly based in watercolor, supplemented by textured relief created with gesso and texturing mediums, ink, and metallic pigments.



EXTENDED GALLERY
Beyond the every day, these are pieces a little bit more than our daily offering.