WANT TO BUY EARLY?
Unlock the Add To Cart button
30 minutes early
Glass-Wing Blossom Bat
by David Natale
With a taste for nectar the diminutive Glass-Wing Blossom Bat spends most of its waking hours wrapped securely around flowers, face buried in the petals.  They work tirelessly to visit as many blooms as possible when feeding, for the energy required to keep their fluffy tails aloft can be quite substantial.  Any sighting should be considered fortunate.
Oil on paper mounted to panel
7″ x 9″ Image
9 1/4″ x 11 1/4″ Framed
Product Height: 11 1/4"
Product Surface / Material: Strathmore 500 series drawing paper mounted to masonite
Product Width: 9 1/4"

$400 $400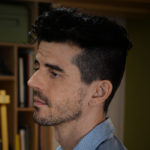 David Natale
David Natale is an internationally exhibited artist focused on fantasy, science fiction and horror genres with interests in imaginative figure and creature design. His paintings are primarily done in oils, acrylics and graphite.

David's love of nature and particularly botany is a strong influence in his artwork. His paintings portray a shared connection and participation with the natural world that can easily be forgotten in modern life. Perhaps, through a better communion with nature, we might live more empathetic and compassionate lives.

David works from his home studio in Los Angeles, CA where he lives with
his wife and cat.



EXTENDED GALLERY
Beyond the every day, these are pieces a little bit more than our daily offering.