WANT TO BUY EARLY?
Unlock 30 minutes early on our mailing list
Gifts of Hades
by Jennifer Hrabota-Lesser
As winter turns to spring, we think of Persephone returning to her mother, Demeter, whose joy at receiving her daughter brings life anew to the earth. Before Hades returns Persephone from the Underworld to be reunited with Demeter, he feeds her the honey-sweet pomegranate, ensuring that she will always return to him and the Underworld for a third of every year.
And while you are here, you shall rule all that lives and moves and shall have the greatest rights among the deathless gods:
-from the Homeric Hymns
This highly detailed oil painting is framed in an antique black, gold-lined museum plein air frame.
Product Height: 8"
Product Width: 10"
Product Surface / Material: Oil on paper mounted to panel
Product Framed size: 16.5" x 14.5"

$600 $600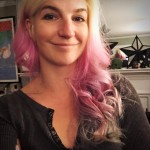 Jennifer Hrabota-Lesser
The work of Jennifer Hrabota Lesser explores the edges of discomfort while maintaining the serene and and calm facade expected of modern women. Her work references fables, mythology, social and religious constructs, and where these constructions fail to support the unyielding center.
Her subjects are often embattled, finding or losing their own power. They deal with what the unconscious conveys beyond the armor of the exterior, and the need to cover up the unseemly with something beautiful.