WANT TO BUY EARLY?
Unlock 30 minutes early on our mailing list
Gentle Giant of Wizard Island
by Emily Poole
Up at Crater Lake, the newts are different.
In its range throughout the lowlands, the highly toxic rough-skinned newt has one predator: the garter snake, adapted over time to withstand an amount of newt poison that can easily kill a human. But in alpine habitat at Crater Lake, it is too cold for garter snakes to survive. Without a need for such intense defense, the high country newts have no need to produce so much poison and as a result have become far less toxic.
Free from millenia of predation and with new physiological energy to spare, imagine what a newt might achieve. Certainly there is plenty of lore of centuries-old amphibians tucked away in remote caves. Perhaps during their spawning season in the deep blue protected waters of Crater Lake, some newts dream of becoming dragons.
Painting size 12×12″, total framed dimensions 14×14″.
$460 $460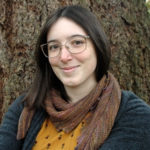 Emily Poole
Emily Poole is a natural history illustrator living in the mossy hills of Oregon. She can be found exploring tidepools and cliffsides, gathering inspiration and making artwork about our fellow species and how to be better neighbors with them.