WANT TO BUY EARLY?
Unlock 30 minutes early on our mailing list
For a Moment
by Sarah Finnigan
We are small in the vastness of the universe, small next to mountains, imperceptible against the empty space between planets…we must be content to marvel at these things that dwarf us and humble us. But we small beings can get down on our hands and knees to appreciate the beautiful intricacies of the world. It should be as easy to accept that we are small in the vastness of time.  The brief, beautiful moments that shape our lives would go as unnoticed as a caterpillar is to a mountain, were it any other way.
The epiphyllum flower, sometimes called a night-blooming cereus, is large, beautiful, and very fragrant, and only blooms for one night. Thanks to photoreceptors in the bud, it blooms near the full moon and practically glows in the moonlight.
6″ x 9″
Acrylic on wood
$500 $500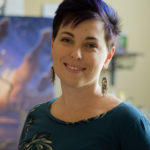 Sarah Finnigan
Sarah Finnigan is a Houston-based artist creating portraits of allegorical landscapes. Her inspiration is built on a youth spent getting lost in adventure games, exploring in the woods, and being captivated by astronomy and the night sky. She infuses her work with fantastical elements to spark curiosity and the desire to explore, and to inspire a sense of reverence, awe, and wonder that many experience when looking skyward on a dark, clear night.

Sarah's work is achieved with a glazing technique to create luminous acrylic paintings.

Other ways to collect my work:
Shop: https://sarahfinnigan.com/store
Patreon: https://www.patreon.com/user?u=133149