WANT TO BUY EARLY?
Unlock 30 minutes early on our mailing list
Eight of Coins/Acanthus
by Kevin Jay Stanton
It is said that the famous Corinthian capital atop many columns was inspired by a chance sighting at a graveyard. The sculptor Callimachus was walking by the grave of a young girl whose nurse had buried her belongings underneath a tile. An acanthus plant and sprouted beneath it too, and as the plant grew, it pushed the tile upward, while its leaves bent down in an aesthetically pleasing way. As an artist he was also nicknamed "katatxitechnos", or the perfectionist, and his eye for detail and beautiful sculptures continue to inspire art to this day.
Given its role in Callimachus' story, acanthus is known to symbolize art and beauty, as well as seeing the potential for art in everything. In that same vein, the coins on this card are hacksilber/hacksilver – a currency used in the same location as acanthus grew and amongst many people in the region: Vikings, Celtiberians, and Greeks being just some of them. Hacksilber was silver currency by weight, so coins could be chopped up into smaller pieces, ingots were formed into segments that could be easily broken up, etc. The silver then could be reformed into new coins or used as jewelry, whatever they wanted it to become at the time and giving the essence more worth than just the objects themselves.
(From Botanica, my upcoming tarot deck with Beehive Books, featuring magical herbs and plants that broke publishing and tarot records on Kickstarter)
6x8x.5″, acrylic and ink on wood
$300 $300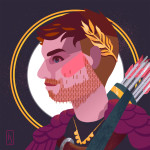 Kevin Jay Stanton
Freelance illustrator with a green thumb and an xacto knife.

Other ways to support my work
Patreon: patreon.com/kevinjaystanton
Online shop: kevinjaystanton.bigcartel.com